---
Mississippi Jack : being an account of the further waterborne adventures of Jacky Faber, midshipman, fine lady, and the Lily of the West / L. A. Meyer.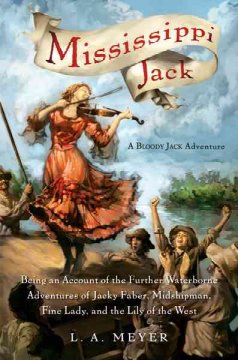 Available copies
Current holds
0 current holds with 9 total copies.
Summary:
In 1806, the exploits of Jacky Faber continue as she heads west to avoid capture by the British and discovers adventure aboard a keelboat on the mighty Mississippi River.
Search for related items by series
Location
Call Number / Copy Notes
Barcode
Shelving Location
Circulation Modifier
Age Hold Protection
Active/Create Date
Status
Due Date
Record details
ISBN:

9780152060039

Physical Description:

611 pages ; 22 cm.

Edition:

First edition.

Publisher:

Orlando, Fla. :

Harcourt,

2007.
Content descriptions
| | |
| --- | --- |
| Summary, etc.: | In 1806, the exploits of Jacky Faber continue as she heads west to avoid capture by the British and discovers adventure aboard a keelboat on the mighty Mississippi River. |
| Study Program Information Note: | Accelerated Reader Middle Grades+ 6.0 25.0 |
LDR
01457cam a2200373 a 4500
001
584735
003
SAGE
005
20130830034645.0
008
070920s2007 flu j 000 1 eng d
010

.

‡a

2006034709
020

.

‡a

9780152060039
040

.

‡a

DLC

‡c

DLC

‡d

NYSSA

‡d

HRS

‡d

UtOrBLW
042

.

‡a

lcac
050
0
0

.

‡a

PZ7.M57172

‡b

Mi 2007
082
0
0

.

‡a

[Fic]

‡2

22
100
1

.

‡a

Meyer, L. A.

‡q

(Louis A.),

‡d

1942-

‡0

(SAGE)1556511
245
1
0

.

‡a

Mississippi Jack :

‡b

being an account of the further waterborne adventures of Jacky Faber, midshipman, fine lady, and the Lily of the West /

‡c

L. A. Meyer.
250

.

‡a

First edition.
264
1

.

‡a

Orlando, Fla. :

‡b

Harcourt,

‡c

2007.
300

.

‡a

611 pages ;

‡c

22 cm.
336

.

‡a

text

‡2

rdacontent
337

.

‡a

unmediated

‡2

rdamedia
338

.

‡a

volume

‡2

rdacarrier
490
1

.

‡a

Bloody Jack adventure ;

‡v

bk. 5
520

.

‡a

In 1806, the exploits of Jacky Faber continue as she heads west to avoid capture by the British and discovers adventure aboard a keelboat on the mighty Mississippi River.
526
0

.

‡a

Accelerated Reader

‡b

Middle Grades+

‡c

6.0

‡d

25.0

‡5

NYSSA.
800
1

.

‡a

Meyer, L. A.

‡q

(Louis A.),

‡d

1942-

‡t

Bloody Jack adventure

‡0

(SAGE)1999292
800
1

.

‡a

Meyer, L. A.

‡q

(Louis A.),

‡d

1942-

‡t

Bloody Jack adventure

‡0

(SAGE)1999292
902

.

‡a

101214
946

.

‡m

BOOK
997

.

‡a

RDA ENRICHED
905

.

‡u

admin
999

.

‡b

13

‡c

070920

‡d

m

‡e

Book

‡g

0

‡f

a
901

.

‡a

i9780152060039

‡b

ISxN

‡c

584735

‡t

biblio

‡s

oclc